This is the Yurigahara Park official site.ENGLISH
DirectionDIRECTION
The Landscape Of The World Lily Gardens
Conifers and broadleaf trees, various shrubs and grasses protect groups of lilies from winds and strong sunlight.
The moderately controlled grasses give the lilies moisture and prevent diseases and pests from spreading.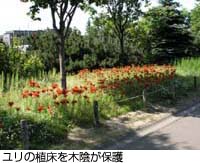 Trees give shade on bed of lilies.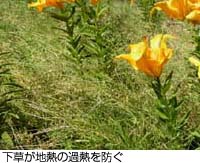 Grasses prevent bed of lilies from rising tempereture.
The Blessing Of The Snow
Sapporo's summer is neither too hot nor too humid. It is comfortable not only for people but for plants.
Moreover, in winter, perennials and bulbs in the park are protected from from the winter cold by snow, which keeps the plants warm while they are dormant.
Such summer and winter of Sapporo increase the variety of plants that can be grown here.
The climate of Sapporo brings a blessing to gardening that is not seen in other areas.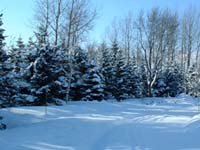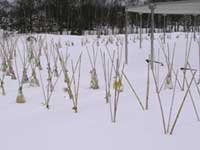 The Collections
Approximately 6,400 kinds of plants are grown in the park including as many as around 3,500 kinds of hardy plants. As for the collection of 70 lily species, such a big live collection cannot be seen anywhere else. In the Rock Gardens approximately 600 kinds of showy alpine plants and arctic plants fascinate visitors. Moreover, collection of Violets, Geraniums, Lilacs, Roses and Hostas welcome people.
In the conservatory, more than 450 kinds of camellia cultivars are seen from winter through spring. Besides Orchids which prefer cool summers (such as Odontoglossums and Miltonias), about 2,000 kinds of plants are grown.
July is Lily Month. People enjoy various gardening courses and tours around the park. On the third Saturday of each month, seasonal plants are introduced to visitors on a tour.
With The Aim Of Environmentally Sound And Sustainable Gardening In The Park
Yurigahara Park trys to protect the ecology of living things in the park while improving the amenity of the park and the prosperity of various ornamental plants. One of our ways to achieve the aim is by the environmental improvement of plants by the use of microorganisms and composts that are made from plant wastes such as fallen leaves and grasses.
Moreover, to prevent some possible bad influences on harmless creatures, we try to limit the use of agricultural chemicals and apply biological controls to pests and diseases.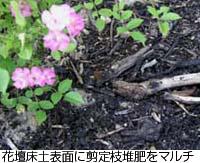 Surface of flower beds are overlaid with mulch made from crushed branch of tree.